The Pastel Coloured Coat or Coatigan
And it does have to be pink!
The coat is an instant game changer – so an easy way to adapt your wardrobe to the spring summer 2014 trends is to start with the coat. And although any pastel coloured coat nods itself to the trend – the real trend here is pink and in my humble opinion, the pastel coloured coat needs to be a pink coat. Just Google it and check out the uptake! This is a massive trend for the season and with your perfect pink coat you can be on trend every day!
Fringing/The Slip on Sneaker
Eva Chen ticks two key spring/summer 2014 trends on the list with this amazing ensemble that includes some fringing and the slip on sneaker, oh so a la mode, oh so Celine slash Givenchy!
The slip on Sneaker – again!
God love fashion, Celine and Givenchy for making this slip on sneaker an absolute key item this spring. The slip on sneaker instantly adds a modern coolness to an ensemble and, moreover, they are totally comfortable and totally functional.  Add a few pairs of these to the winter wardrobe, in leopard, in snake print, in metallic and check! I certainly will!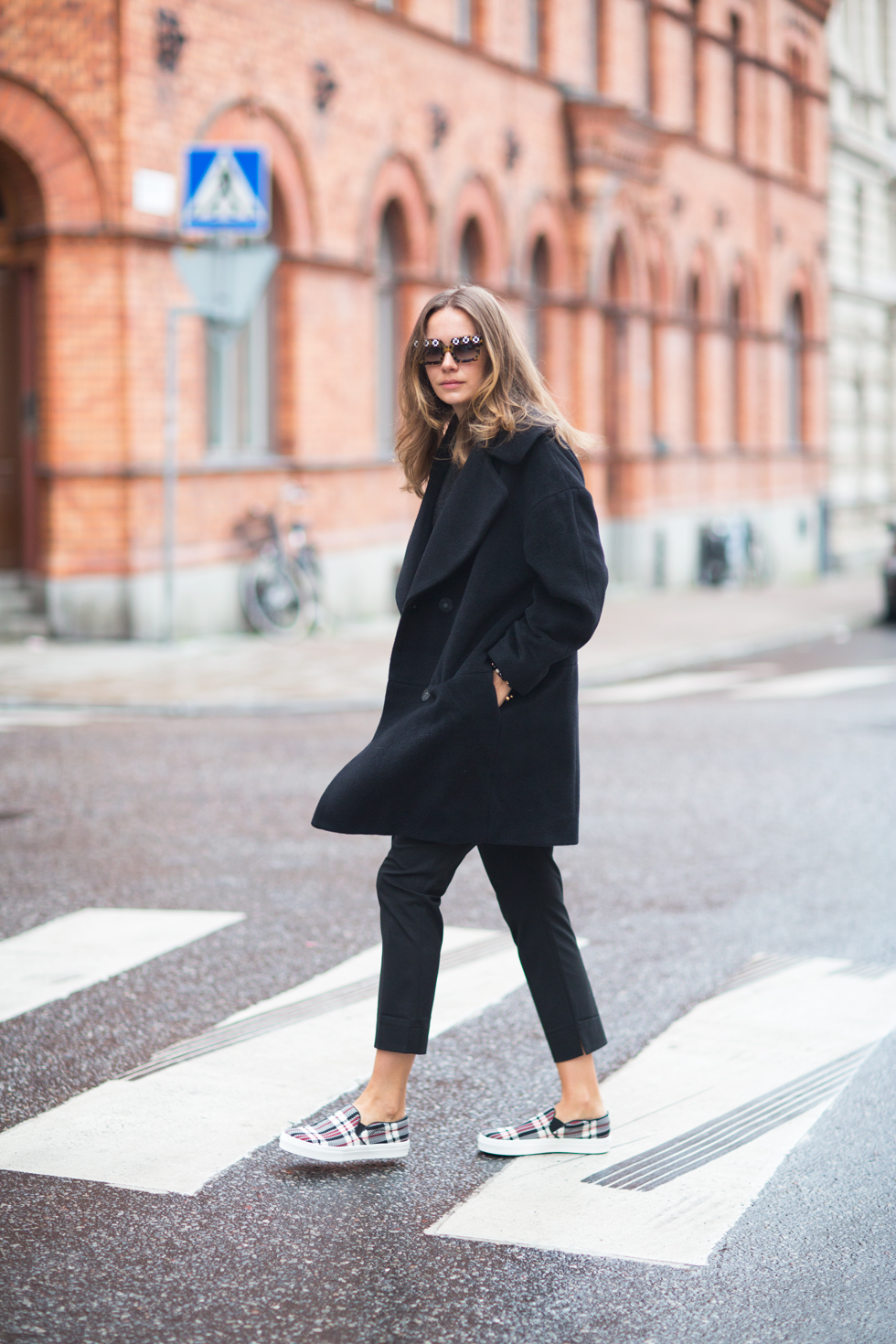 The pointed flat shoe –  (think stiletto without the stiletto heel!)
Yes! More flat shoes!Thank you Valentino! For when you want to appear a little smarter than you would in your slip on sneakers, slip your feet into these sleek and elegant flats.  I just purchased a pair of pointed flats from Kurt Geiger called Norelle. I realised I needed this flat shoe last weekend when I was piecing together an outfit to spend the afternoon in the pub. It was warm and sunny and I wanted an ensemble that was effortless but still on trend. The ballet pump that I would usually opt for on this type of occasion just would not cut it. Ballet pumps are soooo last season. I ended up wearing my cut out metal chain Zara boots, but now I have another pair of flat shoes trending this spring!
Gingham Check
Probably my least favourite check ever. Gingham reminds me far too much of table cloths and chess boards. I think it's a pattern that is maybe just a little too basic for me. Having said that, Balmain has re-merchandised this boxy print and made it super sleek a la Rihanna, in this gingham overkill ensemble complete with bomber jacket. If like me, you're a little apprehensive about investing in this trend, go for a gingham check blouse or cami.
Minty, Sherbert, Baby and Sweet Pastels
'Tis the perfect season for these sweet and sherbert-y colours! When the sun is shining I become almost allergic to black – I simply can't wear it! However, in London the weather isn't quite always permitting. So pastel coats, patent pastel coloured loafers, pastel handbags and such are a great way to take on the pastel trend now. For the warmer summer months go head to toe in pretty pastels and nude shoes. And if that's all too sweet and nice, add some edge to this trend by pairing soft sherbert pinks and creamy, coral oranges with leopard. Always gotta love the leopard!
Creative Denim and Jeans wear
The denim trend this spring is so much more than a denim shirt! It's denim dungarees, denim skirts and denim on denim – once a fashion no-no now gets all the fashion kudos!Of course most of us will opt for day to day attire, so to show you are super on trend this season, have your black skinnies ripped and distressed and opt for boyfriend and tapered jeans in denim blue to mix it up a bit!
More trends to follow…
Be Charmed, stay inspired! x