This blog was supposed to be about Tumblr, but then I found myself staring at my magazine collection, which has remained untouched for months, and realised this is so much more than Tumblr – it's my digital state of mind…  
There are still many a people out there that simply choose to reject social media.They refuse to create a Facebook Page, deny how powerful Twitter is,  have never heard of Pinterest, they are likely to hate Fashion Bloggers and still do all of their fashion, music and lifestyle reading in print! As a writer before I am a blogger, I respect anyone that still picks up a print magazine and takes pleasure in displaying them in bookshelves and coffee tables – I do.  However, as a fashion lover, I will be as bold as to say – anyone that is still yet to embrace social media cannot be deemed a true fashion devotee – they are missing out on the whole damn thing.
It makes sense that fashion and social media walk hand in hand together. Fashion is an industry that finds its foundation in change and trend – a creative expression of human behaviour. Social media is the tool that documents the change, picks up on the trend and is the platform that displays the behaviour. Admittedly, as much as I love the two,  I struggle to keep up! Fashion is quicker, social media develops at lightening speed, trends change almost weekly, my personal likes and dislikes change almost as fast. One week I'll be in love with Celine's lux interpretation of the Birkenstock and can't imagine having my feet in any other shoe, the next week I'll hate them, consider them ugly and un-sexy and then it'll be another shoe, another trend, another hashtag and a new fashion blogger to follow!
At least, with a print glossy, you can take your time, refine your shopping list, shop it and feel satisfied for a whole entire month. And that is exactly what I used to do. But, I have developed a digital state of mind. I consume 99% of my fashion editorial via online content. My magazine subscriptions have subsided and each night before I go to bed, I routinely check the weather on my BBC weather app and then flick through Pinterest, Stylecaster or Who What Wear to research the ensemble I will adorn myself in the following day. I absolutely hate to say it, but a Vogue magazine doesn't seem relevant in terms of style any more. I say style as opposed to fashion, because Vogue is chiefly fashion focussed; if you're concerned with runway trends, designer's inspiration and the opinions of big wig fashion  journos and those in the industry then Vogue is indeed your fashion bible.
However, if your love for fashion is more about manipulating and interpreting trends, piecing together ensembles, finding new and interesting ways to wear your clothes then  there'a whole world of Street Style Fashion out there that changes daily and that should not be missed. Imitating Runway looks is too cliche and for most of us, runway looks aren't usually suitable for our lifestyles – of course Anna Dello Russo would tell you differently.
And since having to sadly make a conscious decision to stop buying fashion magazines, after realising that I just never read them any more, I have noticed my dress changing. I will always have my own inherent style. I will always be the girl that wears lots of gold and costume jewellery – a little less now since I have my beautiful 1920s-esque diamond cushion cut halo engagement ring -I will always love long Naomi Campbell hair and still love being made up. But with so many trends, so many different styles, so many social media platforms and so many different fashion bloggers so readily available and easily accessible at the swish of an iPhone, the way I am fashioning myself changes from one day to the next.
My daily website reads:
Once you start reading StyleCaster you literally won't be able to stop! There are endless style concerned posts – many written in list formats, featuring images of Street Style bloggers and icons. The StyleCaster's editorial style is easily digestible with posts like Ten Ways to Wear the Denim Shirt, Ten Ensembles to Copy, Ten Emerging Street Style Bloggers etc. This is the perfect read on the train to and from work, in the hairdressers or the nail salon. Check out StyleCaster for wardrobe inspiration – I do!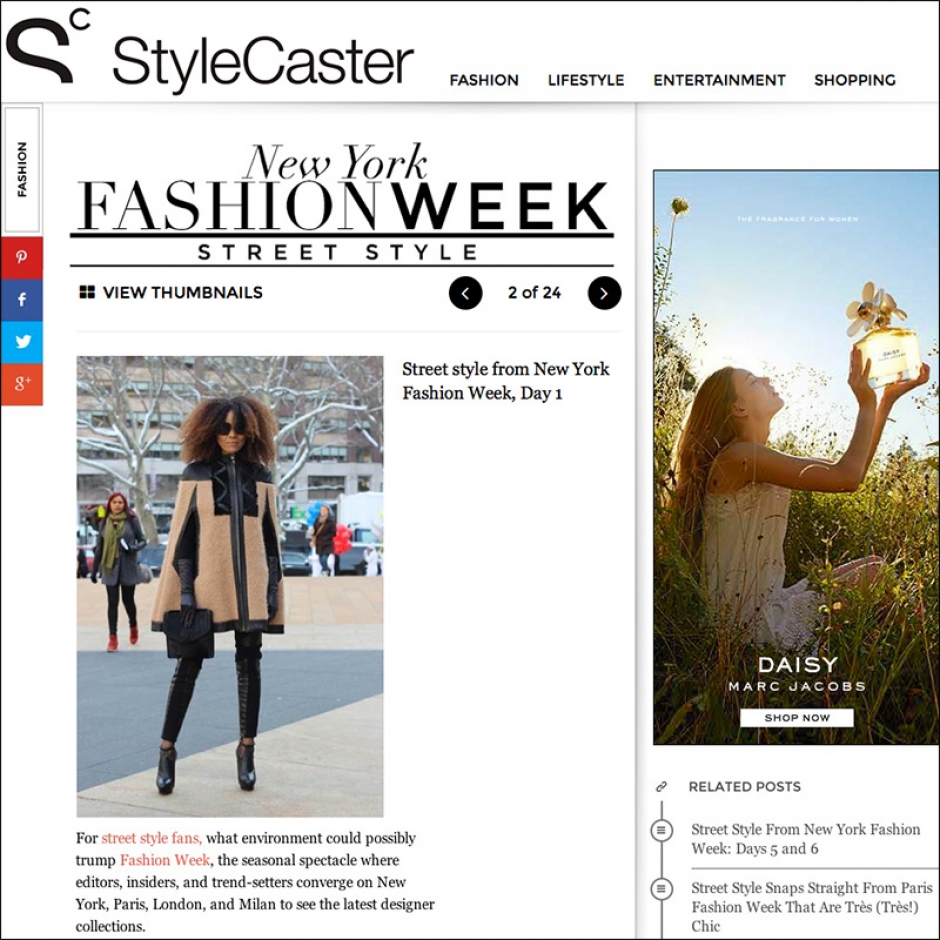 Fashion writer, Editor at Large of Harpers Bazaar, Editor of VMan and Vmagazine and too many other credits to mention, Derek Blasberg is fashion's ultimate Man About Town. He parties with Naomi Campbell, Giselle and Marc Jacobs, he travels endlessly and writes lengthy blog posts accompanied with the most tantalising of pictures with the most beautiful human beings wearing the most beautiful of clothes for his website Mr Blasberg.com. Derek Blasberg's success and career is very inspiring for any writer that loves fashion. If you don't mind spending some time online reading then check out Mr.Blasberg.com. However, Blasberg's website is less street style concerned and more into displaying the world that surrounds fashion, the parties, the travel, the people – most of which emerging fashion bloggers won't have access to. I check out Blasberg for an instant insight into the fashion world from a perspective that I quite like, although a little envious.
Again, like StyleCaster, Who What Wear is addictive for anyone that likes to get a little creative when piecing together an ensembles for a Sunday Roast in the pub or needs some inspiration for a holiday wardrobe or wants to see what Olivia Palermo would wear on a rainy summer's day – this is the site for you! I use Who What Wear to put together my work ensembles for the week, to see what wardrobe items I am missing or just to kill time whenever, wherever.    
Needs no introduction, but the digital arm of this fashion glossy is just as successful as the print version. After subscribing to Elle for many years, I couldn't get to grip with the new design they introduced last year and once my subscription ran out I never renewed it. But I am glad I can still enjoy Elle.com in digital form. The style section covers street style, models off duty and offers style advice. I think Elle have been really good at interpreting the magazine for online readers, so you might not get to indulge in the smell of a new magazine, but you still get the Elle tone of voice.
Having said all that…how could I not purchase the Victoria Beckham August Vogue edition?
Be charmed, stay inspired!x 
Ayesha @COAD