How to fashion yourself now…
For most, September is the hardest month to dress oneself. Of course this makes sense – it's the time of uncertainty for dandies and fashion concerned clothes wearers. We have been so busy honing and compiling our summer wardrobes, taking to Pinterest and Tumblr for street style inspiration and then shopping accordingly, that we haven't even given much thought to the 2014-15 autumn/winter catwalk shows that we watched back in February.
I personally feel like, just as I truly got into the swing of my fashioned summer self – lots of shorts, printed trousers, Birkenstocks, camisole tops and a general laid back Celine inspired approach – were the shops displaying winter garb too warm to wear and the magazines discussing new coat trends far too early to invest in.
Yet, in London, August just gone, it was far too chilly to be sporting shorts and camisole tops, however, not quite the season for tights and boots. And, here we are in September, the appearance of the sun is slightly unreliable, but there is a much warmer temperature than the previous month. Indeed, we have reached the time in the year when our summer wardrobes need to be adapted slightly to contend with the colder mornings and evenings and days that may not be as bright as they were in the height of summer.
It is the transitional seasons that I find to be the most intriguing in terms of fashion, particularly the summer to autumn as opposed to winter to spring. The glossies are fatter and more overwhelming than ever. The spectrum of styles and trends worn by street style icons varies more vastly than ever and the commuters that I see every day in London are a mash up of ankle boots worn with dresses, cut off shorts with kimonos, to coats with sandals.
The transitional seasons can bring about uncertainty because the season hasn't actually managed to synch itself with the edits in the fashion magazines – there is no definitive fashion rhetoric stating that this is what should be worn NOW. The silver lining of this very short lived moment in fashion is, it is our time to shine – to wear whatever we want, to interpret the trends that we loved of the summer just gone and piece them together with the purchases we have made for the coming winter season.
My approach to defining my look and streamlining my wardrobe for this 'in-between' time is almost like creating a capsule collection of garments that include pieces from my summer wardrobe, pieces from my winter wardrobe and a few pieces that I have purchased specifically to hack these trans-seasonal dilemmas. I think the challenge is to feel as though you are dressed appropriately as well as fashionably and so far, these nine tips have been my solution…
1.Wear your mum jeans till you can't wear them any more…
When in doubt, don't we all just opt for jeans? I know it's not very creative, but this is the perfect time to really value mum, boyfriend and tapered jeans. I only wear these more relaxed fit jeans at an ankle grazing length and with heeled sandals, stilettos and shoes that tend to expose the foot as opposed to cover it. The combination of the shoe and a bit ankle on display helps to keep these relaxed fit jeans a little more sexy. I generally don't enjoy wearing jeans in the height of summer and feel that these particular cut jeans are far too casual for my winter wardrobe, so the transitional seasons are perfect for ankle grazing jeans with stilettos. So I am wearing these mothers as much as I can right now!
2. Wear ripped jeans till the winter fairytale calms the distress…
The distressed jean is back – a little more refined than it was in the early noughties and maybe not as long lasting as it was in its last fashion reign. The 2014/15 winter trends are dreamy, sleek and refined, think shift dresses and long boots at Gucci, cinched waists and pencil skirts at Balmain and the Sicilian fairy tale at Dolce and Gabanna. It seems pretty that ripped jeans won't be cutting it for much longer.
3. Don't Cover Up to Soon…Hold off wearing tights and boots 
My mother once told me, "Stay away from tights till October and boots till November." I don't always take her fashion rules on board, but adopting my respect for fashion and dress from her, I do like to consider them. Ankle boots, of course I will wear with a skirt or a dress throughout summer and autumn months, but I will not wear them with jeans and most certainly won't wear my boots with tights – that's far too much protection and coverage too soon. If it's raining so heavily that a court shoe or a sandal is out of the question, I opt for brogues, driving shoes or slip on sneakers and if I can't get away with wearing a skirt or dress without tights, then I simply go for a smart trouser.  I think a  wardrobe should change and transform as the seasons do. If we  start wearing tights in September, the likelihood is we'll be wearing them till March next year and where's the fun in that? With the midi skirt back in fruition this winter, who needs tights anyway?
4. Throw some black trousers into the mix…
If you're opting for a little more elegance than jeans can offer, but are also avoiding tights, like myself, how do you stay warm and tasteful? Tailored trousers! Like jeans, a pair of simple black trousers are trans-seasonal, but they have a slightly more mature edge on jeans. They look sexy and sleek paired with stilettos and smart and androgynous worn with loafers and brogues.
5. Smarten up your maxis….
You can call them maxi skirts and dresses I suppose – but something about the word maxi reminds me of summer and floatiness. Full length skirts and dresses paired with a chambray or denim shirt or a simple round neck jumper lengthens the longevity of a garment mostly associated with the sun. Biker jackets naturally toughen up this typically feminine garment. Wear these full length skirts and dresses with heeled strappy sandals, peep toe heeled shoes and even boots – Olivia Palermo has nailed this look to a T!
6. Replace your camisole vests with tops that cover your decolletage…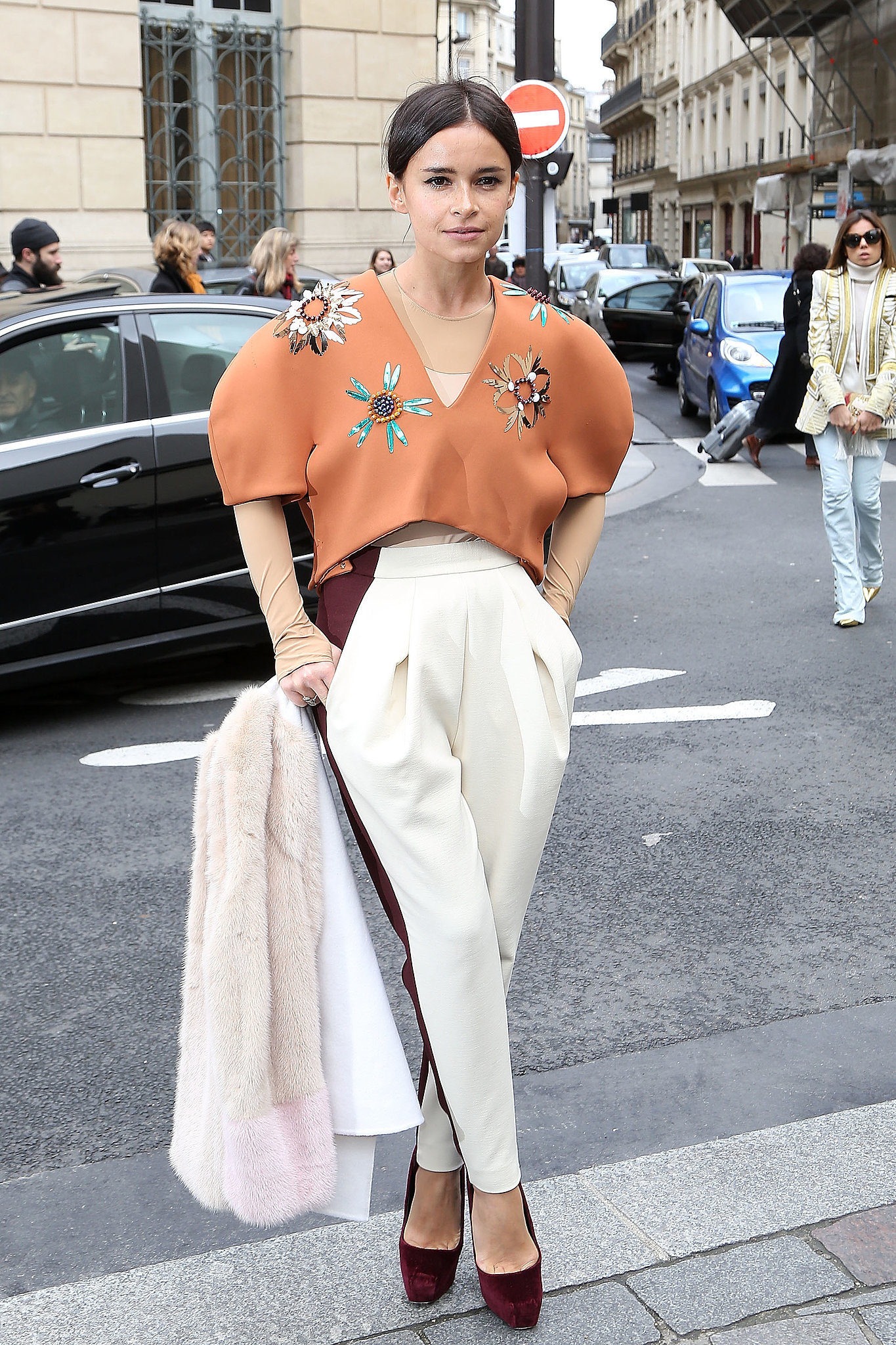 As versatile as those camisole tops were for the summer, it's time to phase them out. You'll find yourself needing a jacket or a cardigan to cover up wearing these thin and strappy tops – which can be unnecessary fuss, unless of course, your cover up is adding something aesthetically to the style of your ensemble. Never underestimate the good of a great t-shirt to tuck into jeans, culottes, midi skirts or a pair of tailored trousers. And if you're looking for something a little more pulled together, opt for shell tops, sleeveless or short sleeved. These tops and tees won't expose too much of your décolletage, therefore you can wear them without a jacket or scarf during the early months of autumn, but still have your arms on show whilst trying to hold on to summer.
7. Don't be all buttoned up just yet – opt for a casual shirt…
On the days when it is slightly cooler, maybe too cool for a short sleeve, I opt for a casual shirt. My first choice is denim, but chambray and oxford and even my fiance's shirts will make the cut. I pair these shirts with skinny jeans and a strappy heeled sandal or stiletto. I know in the midst of the winter I will head to Zara and purchase myself a shed load of smart, sharp and will-dress-up-any-ensemble- Celine-esque shirts and blouses and I will wear them right through till March. However, in the warmer months I like to keep things a little more relaxed than my winter wardrobe.
8. Show off your waistcoats This is a waistcoat's prime time…
This is a waistcoat's prime time! In the colder winter months I will wear a waistcoat over my shirt and beneath my coat, which is great for those that see me indoors and coat-less, but not so much when I am running about outside in the cold. If you want to give your waistcoat, which is a seriously cool garment, some serious airtime, now is the time to do it. For me, it is still too warm to wear a leather jacket and I feel too stuffy in a blazer. I am still flitting around London in short sleeve tops and tees without any outerwear at all. But if I want to add a little something to an ensemble, I pull out my waistcoat and throw it over over a shift dress or a shirt and jeans ensemble. Never have I worn it so much!
9. Say goodbye to flippy sandals…
Stop wearing your strappy flat delicate sandals and opt for a heeled sandal, a heavier and chunkier sandal or Birkenstocks. Strappy sandals are just a little too easy breezy for this transitional autumn period and boots are too wintery, so now is the time for peep toe boots, ankle sandals and shoes in colours or material you fear to wear in the winter. I say wear your Birckemstocks now and keep wearing them till you go off them – if you haven't already. I think I have already gone off mine!
 Be charmed, stay inspired!