The winter season does not pass without me purchasing at least one new coat and a new pair of boots. If you're reading this blog, you're likely to be the same. How could one possibly miss out on the opportunity to add to our wardrobes items almost as powerful as the handbag, but so much more protective? We don't!  Today, I want to talk specifically about boots.
I love boots. I am guessing I own around twenty pairs. Most are black, a few tan and brown, some wedged, Chelsea, studded and over the knee. Ankle boots and booties, knee high riding boots or edgy biker chic -you get the picture. Nonetheless, regardless of how many boots I might own and how many varieties I might boast I have the option of choosing from, it recently became very apparent that the majority of the boots in my collection lack the true fashion clout one needs to demonstrate the attitude of the boot this particular winter season.
I realised last Sunday whilst preparing my ensemble for a Monday in the office. I was keeping it pretty simple in a jeans and shirt ensemble – as you do on a Sunday, but was desperate for a pair of boots to ramp up the edge, bring the fashion know how and the bang on trend-ness to what I was wearing. So, I began slipping my feet into the boots all  lined up in my dressing room slash walk in wardrobe (yes, in my new home I have one of these now!) and I realised, I need to step up my boot game at least five fold!
I have every boot you could ever need for whatever the occasion, smart, running around, evening drinks, dressed up drinks, boots to go food shopping in and boots for clothes shopping. Boots that can't be worn in the rain and  boots to keep you warm. Every single boot, apart from the boots I have decided I need the most, the boot for complete and utter frivolity. 
This winter, boots are on trend in a big way. The same fashion kudos we once got from wearing black stack heeled, round toed ankle boots with a pair of black jeans no longer applies. The shape, the heel, the height, the length, the colour and the entire attitude of the boot has changed. This winter, the approach to wearing boots is to build your ensemble from the feet up, making your boots the major player. And if the boot is the star of this show, then they need to be perfectly on point!  Here's the boots on my radar for winter 2014-15…
The Over the Knee Flat Boot
The over the knee boot literally defined my early twenties. I purchased a pair from Office in the winter of 2009  and wore them throughout the entire winter. Five years later and they are back again! If you want to change up the standard, go to ankle boots and jeans  ensemble, opt for the over the knee boot instead. I recently purchased a new pair of these boots and will only wear mine specifically with black jeans only, as my thighs aren't exactly pin slim and the length of these boots naturally draws attention to this area of the leg. No need for me to tell you why I absolutely love black. Opt for your over the knee boots black leather as opposed to suede and not only do you get a cleaner and sleeker look, but you'll love be able to wear these boots come rain or shine.
The Heeled Thigh High Boo
t
In 2010 the world was crazy about the 'V' boot. Also known as the Vagina boot – I too was crazy about this boot. They were long, tall and creeping way up our legs till their tops disappeared beneath the hem of your mid-thigh length skirt or worn with trousers, barely showed any of your thigh at all. They were slightly reminiscent of a dominatrix, powerful, commanding and overtly sexual – like many a shoes if this fashion era were. Fashion has refined itself significantly since and the thigh high boot isn't so eager to make it's way up to your nether region.
The key to wearing a heeled pair of thigh high boots is, make sure they fit close enough to the leg and ankles. The likelihood is that you'll want to wear these boots with a midi skirt, another big trend of the season and in my humble opinion long clean lines beneath a midi skirt looks neater and is more slimming. Of course Alber Elbaz's Fall 2014/15 Lanvin collection says differently. Opt for your heeled thigh high boots in suede to take the sexual edge off, which you are likely to get from a pair of long leather thigh highs and to add extra style kudos, why not avoid black completely and go for a soft grey? I am quite inclined to opt for these boots in berry red – once I find them! Wear these boots in the evening with a shift dress or a pair of high waisted leather shorts or wear with jeans during the day.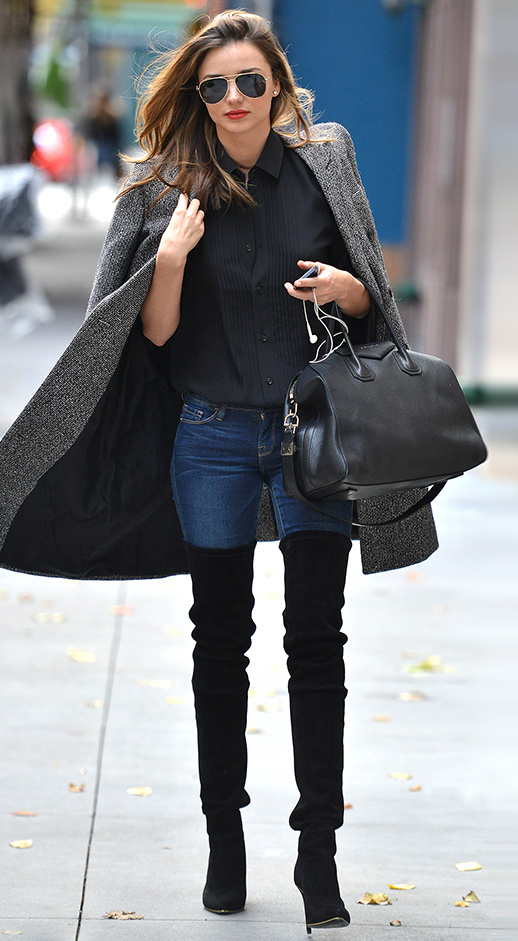 The Knee High Boot
Well, there's not much to say on the knee high boot that Frida Giannini hasn't already said on the Fall 2014/15 Gucci runway. This Gucci catwalk was almost a master class of every which way you should wear the the knee high boot this winter. First and foremost, the boot must sit directly beneath the knee, it just doesn't work drifting between calf and knee, and  again, they must be slim and close to the leg to create those clean lines I just love Gucci for. Wear these swinging sixties, mod boots with an A-line skirt, a shift dress or a mini dress and select them in any colour, from powder blue or cream snake skin, berry red, nude or black with a barely there heel for the day and a thick high heel for the evening. Wear these boots instead of a loafer or brogue and wear just as Frida has demonstrated, with above the knee hemmed dresses and skirts. I just adore this entire collection.
The Ankle Boot
Let's face it, it's not everyday that we'll want our pins completely wrapped in leather, so the ankle boot still remains the quick go to boot. However, the shape of this fail safe boot has evolved somewhat. To be completely and utterly on the nose, the ankle boot is just a little longer, sitting slightly above the ankle as opposed to on the ankle. The toe of the boot is slightly more elongated and more pointed. The result is a much sharper, maybe even slightly rockier look, than that of the smart casual feel of the round toe Chelsea boot. The difference in the actual boot is only subtle, but what it will do for your jeans ensemble is massive. I can't wait to get my hands on a pair of these!
The Cut Out Boot
 I shunned these boots as the most ridiculous boots ever created! I could NOT get my head around why a shoe worn in the winter, to keep feet from the cold, rain and snow would have chunks cut out of it? Surely the holes defeated the entire purpose of wearing a boot in the first instance? I was perplexed as to why these boots were ever even created. At least, that was my thinking was till I tumbled upon endless pics of the Balenciaga cut out boot all over Tumblr and could not resist how edgy they looked and how much they did for the most basic ensemble. So, naturally I bought a pair. It's pretty simple really, wear your cut out boots with any and everything. These boots are all about attitude, so wear them when you are prepared to add a little fashion and frivolousness to what would be a typically practical and functional boot. Be warned though, some people still don't get it!
The Cleated Sole Boot
This boot sits in the same family as the cut out boot. Like Marmite, you either love them or hate them. Right now, I would say I hate them. Of course, I have once said the same about Brikenstocks and the cut out boots and own a pair both. In all fairness, the truth is, I do like the cleated sole boot, I just hate them for me. At thirty years old, I think this is a trend I am going to have to let pass me by. Admittedly, I also said the same about the cut out boot as well. But if you like the idea of stomping around town in the comfort of a cleated sole – it does sound tempting – this boot is indeed for you. Slightly less elegant, more fashion student and Tumblr chic, these boots are perfect for the youthful street style maven.  And if you've donned the cut out boots with absolutely no qualms last year, then the cleated boot is a natural progression. I don't think you'll be seeing the likes of Olivia Palermo or Victoria Beckham street styling it up in these!
Which boots will you go for?
My aim is to have them all…because, let's be honest, I am likely to fall for the cleated boot pretty soon too.
Be charmed, stay inspired! x 
Related articles